Dubrovnik's Winter Charms Unveiled: Free Themed Tours and Cultural Delights Await in the Heart of the Old City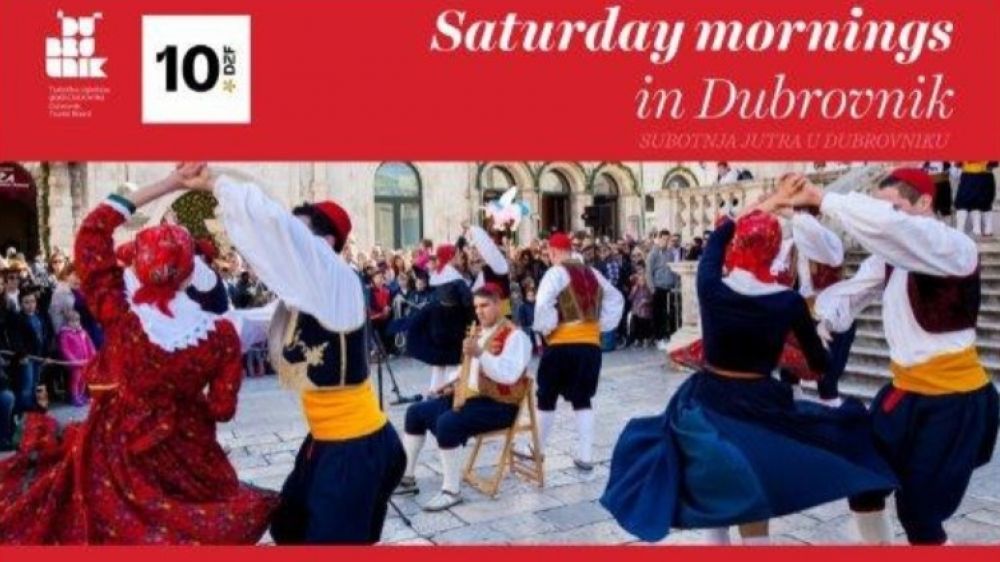 20.11.2023
Step into the enchanting charm of Dubrovnik's winter wonders with 'Winter Saturday
Mornings in the City'—a series of free, themed city tours designed to unravel
the city's captivating history and cultural treasures. Join us every Saturday
as expert guides lead you through the Old City's hidden gems, complemented by
mesmerizing performances from the Linđo Folklore Ensemble. Immerse yourself in
Dubrovnik's rich heritage and embrace the magic of winter and explore, learn,
and be captivated by the timeless allure of this historic city.

The Dubrovnik Tourist Board is set to enchant visitors during the winter months
with the return of "Winter Saturday Mornings in the City." These
special events will feature captivating city tours and a mesmerizing
performance by the renowned folklore ensemble "Linđo" in the heart of the Old
City, right in front of the Church of St. Blaise.

Embark on a journey through Dubrovnik's history during the specially themed city
tours, commencing at 9:30 am in English and at 12:30 pm in Croatian, every
Saturday from November 4th. Led by expert guides Lidija Begić and Vesna
Barišić, the tours commence in front of the Tourist Information Centre on Pile,
just outside the Old City.

Following the insightful city tour, visitors will have the opportunity to witness the
enchanting performance by the Linđo Folklore Ensemble at 11:30 am in front of
the Church of St. Blaise. Please note that these performances are
weather-dependent.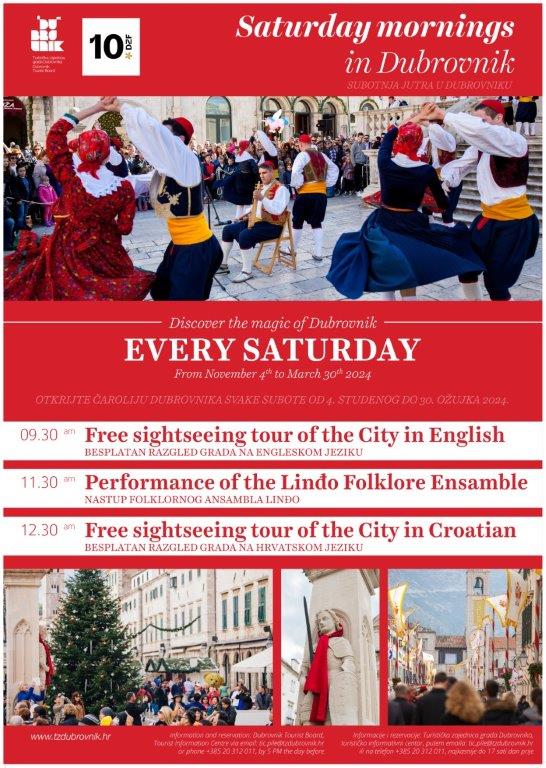 Novembers' theme, "Cosmopolitan Dubrovnik," delves into the development of major
European religions and the religious groups that have shaped Dubrovnik over the
centuries. Discover the city's rich history of religious tolerance,
coexistence, and acceptance, exemplified by its compact historical town
covering only 1.06 hectares.

As the Dubrovnik Winter Festival unfolds from December 2, 2023, to January 6,
2024, the city tours will shift focus to "Dubrovnik Carols." Running
on Saturdays at the same time slots, these tours will explore the traditions of
carolling in the Dubrovnik region, a practice dating back over 800 years.
Following the storytelling, the Linđo Folklore ensemble will perform carol
songs and traditional dances in front of the Church of St. Blaise.

In January, February, and March 2024, the Winter Saturday Morning program will
continue its enchantment with rotating themed city tours, including topics such
as "St. Blaise - in Honour of a Patron," "In the Footsteps of
Love from Ancient Times," and "The Scent of a Woman." Specific
tour dates will be announced on the Dubrovnik Tourist Board's Facebook profile.

To ensure an intimate experience, registration is required for the themed city
tours due to limited availability. Interested participants can register via
email at tic.pile@tzdubrovnik.hr or by phone at +38520312011, no later than
5:00 pm on Fridays.