Living the Dream in Dubrovnik: Insights from Digital Nomad Ambassadors Marlee McCormick and Jeff Burkett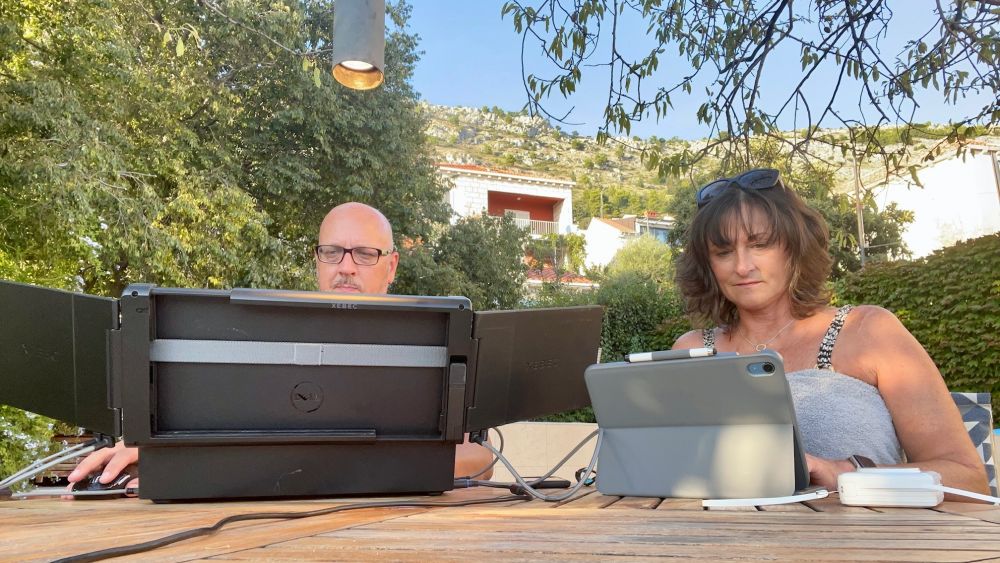 14.09.2023
This
month we caught up with Marlee McCormick and Jeff Burkett from the US as we
continued to interview the digital nomads that are coming to Dubrovnik as part
of the project Digital Nomad Ambassadors project. These two free spirit digital
nomads were part of the 2021 digital nomad conference in Dubrovnik and clearly
have a love for the south of Croatia. Balancing life between working in the
States and travelling the world can obviously be a challenge but the pair are
taking everything in the stride. "We eat healthier, no fast food, sleep more and definitely
smile more in Dubrovnik," is really a sentence that stuck in our minds. The Digital Nomad Ambassador project is jointly organised by the Dubrovnik Tourist
Board and the Saltwater Nomads agency from Split.
What has been your favourite aspect of living and working in Dubrovnik?
M - First and foremost are the people. Granted the location and the beauty of the Adriatic can't be beat, but it's the people and the friends we have made that keep us coming back. We have found most Croatians to be very kind and generous people.
Can you share any challenges you've faced while working remotely in Dubrovnik, and how did you overcome them?
J - My biggest challenge has been with the number of available workspaces. In the US and many countries in Europe there are shared office spaces that you can use, some almost 24 hours a day - which helps due to time zone differences and work hours for someone like me, a US based nomad working on European hours. When we began the nomad experiment in 2021, we had the Lazaretti as our workspace, but even then it closed promptly at 5pm. Now I'm told it is no longer available. So I've had to rely on Wi-Fi at our rental apartment or from some friends who have office space available, but
not all nomads have that luxury.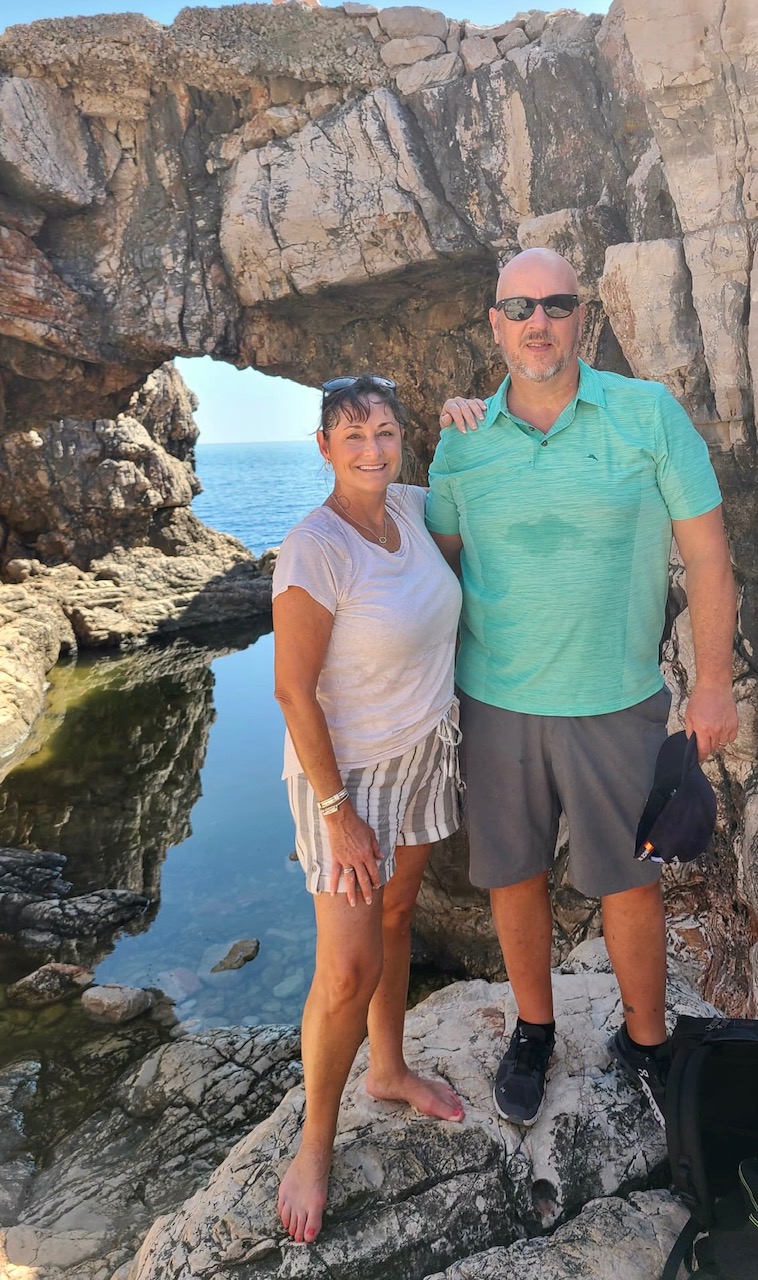 Fun on Lokrum
Can you tell us about your daily routine as a digital nomad in Dubrovnik? How do you balance work and leisure?
M - That's easy, it's the work hours and no long commute. In Texas, our jobs in morning radio requires us to get up at 4am and drive several miles to work to start our day at 5am. Here in Dubrovnik we can sleep in, have a coffee, relax a bit and then begin work
around noon with a short walk or even no commute if we work from the apartment.
Following our American work hours we finish up just in time to enjoy the beautiful sunset and have a late dinner. The best part is that we no longer have to go to bed when the sun is still up!
What are some must-visit places or hidden gems in Dubrovnik that you'd recommend to fellow digital nomads?
M & J - For us it's Lopud, a short boat ride and we're having an amazing lunch with fresh fish by the sea, then a walk around the island. M - there's a local artist on the main Riva that I love to visit his shop for really unique handmade jewellery.
Hiking on the island of Lopud
How do you stay productive while surrounded by such a beautiful and distracting environment?
J - That's the tough part, because my job as a digital content producer in news radio requires that I stay pretty focused and keep an eye out for breaking news, but that doesn't mean I don't appreciate the beauty surrounding me here in Dubrovnik. Those 15 minute breaks during the day are even more special with a view of the sea or the old city. Back home in Dallas, when I look out of my office window all I see are high rise
buildings and freeways full of traffic. I hope locals never take that for granted. I think we stay productive because we are so relaxed. We eat healthier, no fast food, sleep more and definitely smile more in Dubrovnik.
What advice would you give to someone considering Dubrovnik as their next destination for remote work and travel?
M - Tourism is definitely coming back to Dubrovnik, so my best advice is to beat the crowds and come in the off or shoulder season. I know it's tempting to come for the "sea and the sun" of summer, but the water can still be warm in October, the winter months are full of local festivals and the spring flowers are lovely.
J - Don't be discouraged by the lack of coworking spaces, many cafe's offer free Wi-Fi. Also, get out of the city walls where the prices are less expensive.
In terms of cost of living and affordability, how does Dubrovnik compare to other places you've lived as a digital nomad?
J - When we were living and working here during the pandemic years, we found Dubrovnik to be very affordable, especially if you went outside the old city to some of the other neighbourhoods. The EU and converting to the Euro seems to have made affordability a bit more challenging. In general, prices all over Europe seem to be higher this year. We've found Mexico to be one of the least expensive for the US dollar.
M - We are currently here during summer and have a bit of sticker shock compared to last year. I think next time I'll take my own advice and come during the winter months for better perspective, either way we'll definitely keep coming back to what we now consider our home away from home.




And you can keep up with Marlee and Jeff here
Instagram marlee.mccormick.921